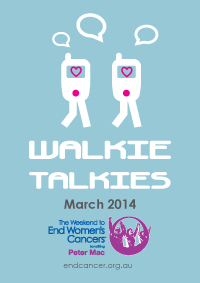 Judichi Design is proudly donating graphic design time towards t-shirt prints, posters and raffle tickets for the Walkie Talkie team.
The WT team will undertake a 60km walk over two days to raise money for 'The 2014 Weekend to End Women's Cancers benefiting the Peter MacCallum Cancer Centre'.
Support these lovely ladies by donating to their team or even better joining them in this amazing endeavour.
Click here to go to the Walkie Talkie team page to donate or for more information.